---
US Model Mercedes-Benz
1956-65 220b and 220sb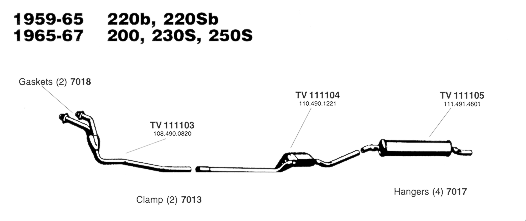 1956-65 220b and 220sb Exhaust System
Quantity
Part No.
Description
Reference
2
7018
1.75" I.D. ALu Gasket Ring


007.603.04301

1
TV111103
Engine Pipe

108.490.0820

1
TV111104
Pipe Assembly

110.490.1221

1
TV111105
Muffler Assembly

111.491.4601

2
7013
1 7/8" Pipe Clamp

4
7017
Rubber O-ring Hanger


112.492.0282

Call 1-800-243-1170 or E-mail us to Order!
Each of Timevalve's quality, rust-free stainless steel Mercedes 1956-65 220b and 220Sb aftermarket exhaust systems includes: engine pipe, front muffler assembly, rear muffler and tail pipe assembly, that may be purchased "complete" or as individual components.

Separately priced installation kit includes: two gasket rings, two 1 7/8" stainless steel pipe clamps, four rubber o-ring hangers, and a vial of joint sealer compound.

E-mail us or call us toll-free at (800) 243-1170 to order!